Any links on this page that lead to products on Amazon and other companies may be affiliate links and we earn a commission if you make a qualifying purchase. Thanks in advance for your support!
Will Britain's professional government-sponsored astronaut, Tim Peake, fly into space again, with a successor to his 2015-16 "Principia" mission possible for 2024 onboard the International Space Station (ISS)?
Looking at Tim's flying and spaceflight career to date, Nick Spall considers the possibilities.
And could he go even further as a European Space Agency (ESA) astronaut, possibly to the planned Lunar Gateway that will one-day orbit the Moon?
Having completed his three year sabbatical from ESA's astronaut corps, Tim's work has been based in the UK focussing on STEM outreach work, assisting both the UK Space Agency and ESA with inspirational talks and event attendance.
He has appeared in the media regularly, with contributions to the BBC's "One Show" – recently, Tim was a guest on BBC Radio 4's "Desert Island Discs".
Any links on this page that lead to products on Amazon and other companies may be affiliate links and we earn a commission if you make a qualifying purchase. Thanks in advance for your support!
His website – www.timpeake.com – is enthralling for many, particularly young people, and his best-selling autobiography, "Limitless: The Autobiography" (Century, 2020: ISBN 978-1529125573) describes Tim's exciting life as a helicopter military/civil test pilot and an ESA astronaut.
Writing during the early Covid pandemic "lockdown-weeks" of 2020, Tim made good use of his flying, ESA astronaut selection and Expedition 46/47 diaries in "Limitless". The autobiography follows Tim's previous books, "Hello, is this planet Earth?: My View from the International Space Station" (2016), "Ask an Astronaut: My Guide to Life in Space" (2017) and "The Astronaut Selection Test Book: Do you Have What it Takes for Space?" (2018).
Producing four books in four years is challenging, particularly when he had heavy ESA astronaut responsibilities, plus being an active parent with two sons.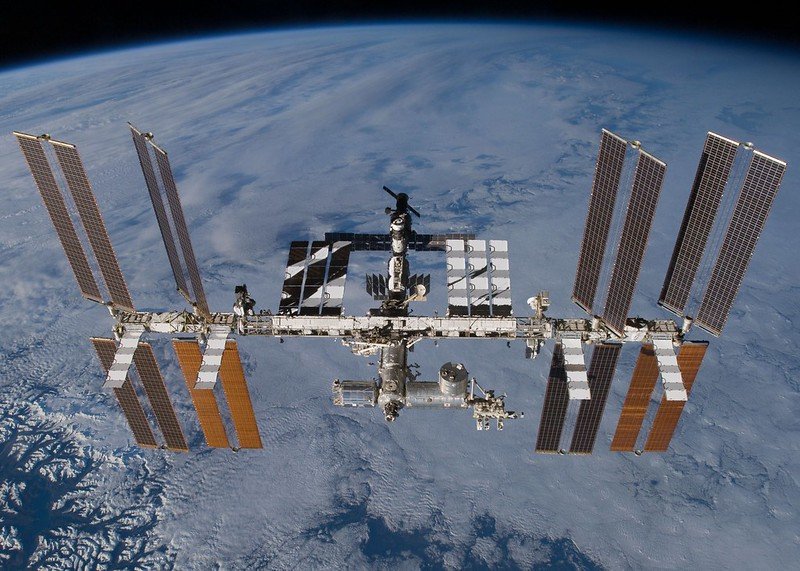 Becoming forty-nine in April 2021, Tim has already squeezed plenty into his life – helicopter flying for the UK Army Air Corps, aircraft flight testing, an ESA astronaut selection in 2009 and then his dynamic experiences during six-months onboard the ISS as part of Expedition 46/47 – a 4hr 43 minute EVA spacewalk in Jan. 2016 was perhaps his ultimate flying career experience.
Tim Peake's Biography
Born on 7th April 1972 and raised in Westbourne Common, Sussex, Tim had a passion for helicopter flying from a very early age.
Always saying that his upbringing and education was "very ordinary", in fact his enthusiasm for an outward bound life, including time in the Scouts and the Army Cadet Force at Chichester High School, meant that he was able to persevere enough to win a coveted Flying Scholarship, going solo in a Cessna 150 at Compton Abbas airfield at only eighteen years of age.
All his life he has excelled at all things outdoors and in the air, with Tim being inspire by being on Operation Raleigh after leaving school.
Rather than going to University straight after school, Tim joined the British army's Sandhurst officer academy in 1990, going on to see active service in Northern Ireland, Bosnia, Kenya and Afghanistan, ending up as a Major by 2008.
He qualified as a helicopter pilot, instructor and then as a Boscombe Down EFTS test pilot, working on a number of aircraft in the UK and USA, but focussing mainly on the "Apache" attack helicopter for the UK army and the AgustaWestland manufacturers.
Tim amassed over 3,000 hours in his career, which is very high for helicopter flying. His aircraft testing days included deliberate flying into "vortex-ring bubbles" where helicopters can plummet out of the sky, deep-stalling an ancient WW2 Dakota DC-3, plus undertaking covert flying in Afghanistan in a Russian-built Mi-17 helicopter.
Tim Peake's Spaceflight career
Being selected in 2009 by ESA as one of six new astronauts, Tim's character and career profile obviously impressed his examiners.
Tim ticked all the boxes for astronaut selection criteria at that time – extensive test flying experience, a Degree in engineering – gained at the relatively late age of thirty-three – a high level of physical fitness, the right attitude, motivation and team-player characteristics, plus the perfect hobbies and interests – in Tim's case these included parachuting, SCUBA diving, skiing and climbing,
Tim's "Principia" mission of 2015/6 was not plain sailing.
A thruster-sensor failure resulted in docking problems for his Soyuz TMA- 19M spacecraft requiring Russian flight-commander Yuri Malenchenko to coolly achieve a very difficult manual docking in darkness. Tim then had to cope with an infection illness that gave him a fever of 102 degrees early onboard the ISS, plus he went through the tensions of capturing the Dragon re-supply spacecraft with the robotic arm controls.
Tim Peake Spacesuit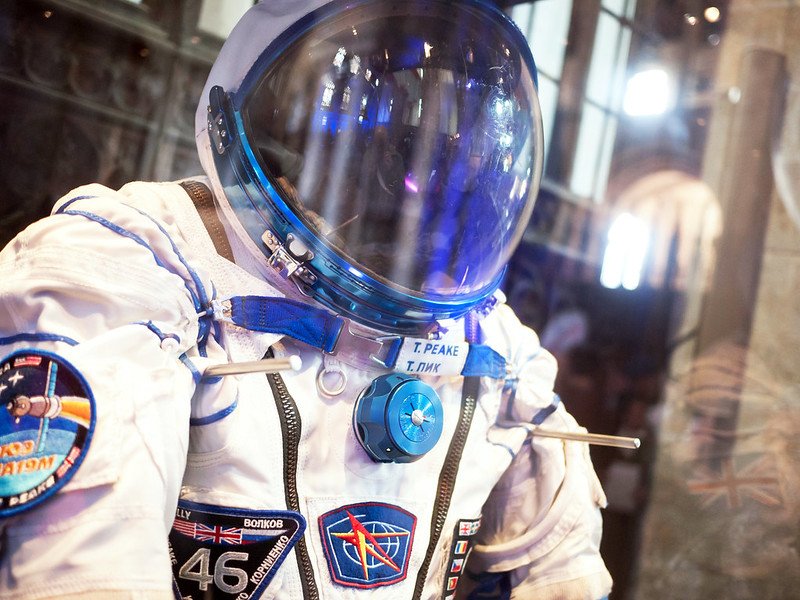 During Tim's EVA, fellow spacewalker Tim Kopra's helmet began filling with leaking EMU spacesuit coolant. Tim had to take-over as EV-leader to speedily terminate the procedure and ensure both were safely back in the airlock before critical problems arose with the malfunctioning suit for his NASA colleague. Photo credit: Sam Town
Late in the mission, the Russian Progress cargo-vehicle attached to the station began leaking fluids. Window covers had to be closed for two weeks and the ISS became more like a sealed spacecraft.
All went successfully for Principia, however. Assisting with the 250 ongoing experiments then occurring on the ISS, plus the twenty-five experiments on his own body whilst in weightlessness, Tim's science research output was very productive.
"Principia" is now acknowledged as ESA's most extensive outreach astronaut space-mission.
Mission Selection Origins
Tim was selected by ESA in 2009 despite the historic lack of UK involvement in human spaceflight (HSF).
Since 2006 however, lobbying by the "UK Human Spaceflight Campaign" began to have a positive effect on government policy.
Important discussions occurred between the enthusiastic UK Science Minister Lord Drayson and ESA's DG Jean-Jacques Dordain in 2008/9 and a new UK commitment to HSF spending for the ISS, freed matters up for Tim's selection. The next Science Minister David Willetts sealed the process and committed UK HSF funding, allowing for the six-month ISS mission for the UK's Tim to go ahead.
Tim Peake would become the sixth member of the exclusive UK-born orbital astronaut "British Interplanetary Society's (BIS) silver-pin award" group, joining Helen Sharman, Mike Foale, Piers Sellers, Nick Patrick and Richard Garriott de Cayeux.
Tim Peake – Quotes
For Tim, his childhood and early life has been a story of the "ordinary" British way of life producing an exceptional pilot an astronaut, clearly combining the qualities of level-headedness, humour and stability.
His apparent modesty and down-to-earth nature clearly impressed his ESA selection team, his crewmates on his Principia mission plus the many who followed his subsequent STEM outreach work in recent years.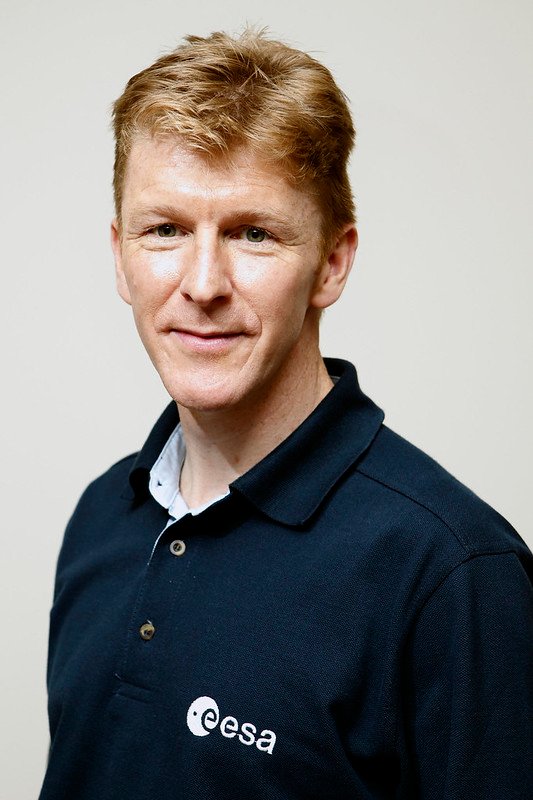 In his autobiography, speaking about having his children for example, he says:
"Did spaceflight change my perspective? Absolutely it did…..But did it change my perspective as much as becoming a father did? Not even close."

Tim Peake
Few would not be impressed by this sober attitude to achievements in life
Future career possibilities
ESA has always said that they would be flying all of the six "class of 2009" astronauts for a second mission and Tim should, if all goes well, achieve his second ISS tour from 2024.
However, in a post-Covid pandemic world nothing is certain and his second flight prospects depend on continuing UK Space Agency government funding, particularly for ESA-led ISS/HSF experiments and equipment.
There is the possibility of a closer UK bi-lateral relationship with NASA, perhaps more likely in future years outside the EU, but unless matters suddenly change it appears that for the next few years an ESA commitment will most likely be the key route for Tim's next spaceflight.
Will the British government enable more UK citizens to be selected by ESA, by maintaining and enhancing HSF spending?
A new ESA astronaut selection process occurred during 2021-22 and at the Paris ESA Ministerial meeting in November 2022, three new UK individuals were named as candidates to join Tim Peake as a UK/ESA astronaut – the British astrophysicist Dr. Rosemary Coogan is to become  a new "career" astronaut candidate from April 2023, plus scientist Dr. Meganne Christian is to be  a "reserve" astronaut, with  British Paralympian athlete and doctor John McFall chosen to be tested as a "para-astronaut".
The new ESA intake will boost the existing corps of seven "career" astronauts, with five new individuals joining as chosen candidates and eleven "reserve" mission-specific astronauts, together with the new "para-astronaut" – the total of twenty-four potential ESA astronauts will boost the UK's and ESA's chances of achieving both orbital and future lunar missions.
To orbit and beyond?
If he maintains fitness and there is government funding, Tim has another fifteen years ahead for his spaceflight career. Beyond another ISS mission, what awaits him for new directions though?
Exciting future activity in human spaceflight is set to be provided via the new SpaceX Crew Dragon, Boeing Starliner and Orion spacecraft coming into service. Tim may well next fly to the ISS onboard a Crew Dragon or Starliner.
Also, will the UK consider joining NASA's return to the Moon plans with "Project Artemis", either as part of ESA's interests or even independently?
The Lunar Gateway space station that is intended to orbit the Moon and allow for new lunar landings later this decade is one such route. ESA countries like Germany and Italy are committing modules and equipment funding to it – German /Italian/French astronauts may one day therefore join NASA astronauts onboard Orion spacecraft and actually land on the Moon.
ESA has always promoted the "Moon-village" concept with a base at the Lunar south pole, within Shackleton crater in the Aitken Basin – there, water may be extractable from potential ice just below the lunar surface.
The Moon-village experience will of course be a future enabler of an international trip to Mars, perhaps by the late 2030's.
For the UK and Tim Peake, if government funding allows it, being part of this future space exploration direction will be hugely exciting!
Fun Facts About Tim Peake:
Tim spent 12 days as an "aquanaut", living entirely under the sea as part of the NEEMO mission of NASA's, where he had to use an "outdoor" underwater gazebo toilet
He and his five fellow astronaut classmates from the ESA 2009 astronaut intake called themselves the "Shenanigans"
Tim did the London Marathon running inside the ISS, weightless in space, in only 3hrs 35 mins.
He orbited the Earth 2,627 times in his Principia mission in 2015/6
Tim travelled into orbit on the Russian Soyuz rocket, reaching 25 times the speed of sound, becoming a member of the unofficial "Mach 25 Club".
Because of Einstein's "relativity theorem", travelling at 17,500mph for six months on the ISS, Tim is "relatively" younger than the rest of us….but only by approximately 0.03 secs.
Onboard the ISS, Tim got to experience 16 sunrises and sunsets every day.
---
Interested in learning to fly a microlight? Check out this article, here.
---